---
Egyptian Authorities Sentence Dozens to Death.
September 2018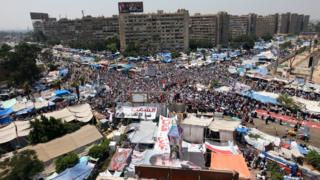 CAIRO | Egypt --
Egypt has delivered verdicts for more than 700 people over a pro-Muslim Brotherhood sit-in after President Mohammed Morsi was ousted in 2013.
The court confirmed 75 people's death sentences and life imprisonment for 47 others, including Islamic leaders. Rights group Amnesty International has called the trial "grossly unfair" and a violation of Egypt's constitution. Those who were sentenced in the mass trial were accused of security-related offences including incitement to violence, murder and organising illegal protests.
Violence erupted at the 2013 protest in Cairo's Rabaa al-Adawiya square, with more than 800 people killed by security forces. Earlier this year, Egypt's parliament gave military officers immunity for the deadly crackdown and any crimes committed between July 2013 and January 2016. At the time, the government congratulated the police and army for its actions and praised their "self-restraint". It claimed that armed protesters had attacked security forces and that force had only been used in response to violence from demonstrators.
Prominent members and politicians in the now-banned Muslim Brotherhood organisation were among those sentenced to life, including its Supreme Guide, Mohammed Badie. Hundreds of people were arrested when the Egyptian army and police dispersed the pro-Morsi protest, which took place a month after the democratically-elected former president was ousted by the then military chief and current president, Abdel Fatah al-Sisi.
The UN said that the sentences was not based on a fair trial and should be reversed to avoid an "irreversible miscarriage of justice". New United Nations rights chief Michelle Bachelet said she was "extremely concerned" at the decision handed down by the Cairo Criminal Court. Bachelet, who took the reins of the UN rights office less than a week ago, urged Egypt's appeals court to "review this verdict and ensure that international standards of justice are respected by setting it aside."
Bachelet pointed to the stark contrast between the many mass trials since then and a law passed in July effectively bestowing complete impunity on security personnel for offenses committed in the period after the overthrow of Morsi's government on July 3, 2013. "Justice must apply to all, no one should be immune," she insisted. "Attempts to bestow immunity from prosecution for crimes allegedly committed by members of the security forces merely promotes impunity," she warned.
---
North Korean Military Parade Concludes, Absence of Ballistic Missiles a Signal?
September 2018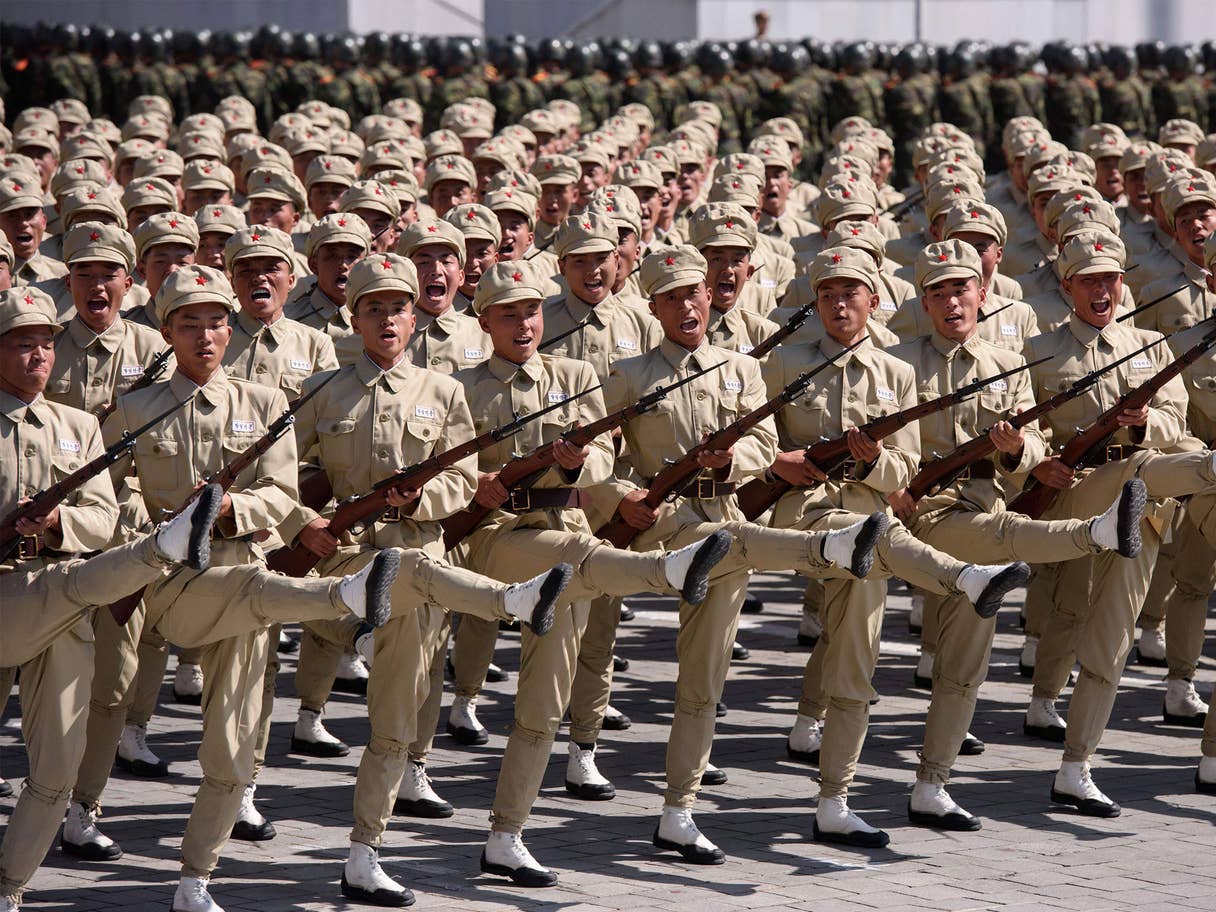 PYONGYANG | North Korea --
North Korea did not display any intercontinental ballistic missiles (ICBMs) at a military parade to mark its 70th anniversary, according to footage of the parade. The parade is being scrutinised for clues about North Korea's weapons arsenal and professed commitment to denuclearisation. Some analysts had predicted that Mr Kim would tone down the display after his summit with US President Donald Trump. A display of the country's ICBMs which can reach the US mainland carrying a nuclear warhead would have been seen as provocative.
In a break from recent years, almost half the event was devoted to civilian efforts to build the country's economy, now a key focus for leader Kim Jong-un. Many civilian groups including nurses, students and construction workers, marching beside colourful floats. Mr Kim attended but did not address crowds, instead leaving the job to senior statesman Kim Yong-nam, who told armed forces to prepare to work for financial growth rather than for battle. The supreme leader was seen at the end of the two-hour event, joining hands with Chinese special envoy Li Zhanshu, a high-ranking member of China's ruling communist party.
The "new line" of putting economic development first has been Mr Kim's top priority this year. Having appeared to have decided that the possession of a nuclear arsenal is sufficient to deter US aggression, some feel that the regime in Pyongyang will now begin devoting greater resources to raising the nation's standard of living. This year's celebrations also mark the revival of North Korea's iconic mass games after a five-year hiatus. The games involve tens of thousands of people holding up placards or dancing in precise unison and are intended to be a display of national unity. This year's spectacle, one of the few North Korean events to which a large number of foreign dignitaries and press are invited, is also expected focus on economic themes.
The decision follows months of inaction following the meeting between President Trump and the North Korean leader in Singapore. Having agreed a vague, four point plan, no progress has been made on the definition of 'complete, verifiable, irreversible disarmament' or CVID as it has become known. In light of the current impasse, there is some speculation about what may come next. Dr Jeffrey Lewis, Director of the East Asia Nonproliferation Program at the James Martin Center for Nonproliferation Studies speculated that North Korea may be seeking what he described as 'the Israel deal' whereby North Korea refrains from testing nuclear weapons and does not show them at parades, and in return the United States turns a blind eye to their possession.
---
European countries act to seal land borders
September 2018
SOFIA| Bulgaria --
Bulgaria plans to station an additional 800 troops on its border with Turkey to quell any potential flow of migrants. Bulgaria's defense minister said the EU's failure to stop migrants crossing the Mediterranean justified the move that will see the total number of soldiers on the border rise even further after last years's decision to also sent additional troops.
Bulgarian Defense Minister Krassimir Karakatschanow said Thursday he plans to deploy armed troops to strengthen border security with Turkey and halt any potential flow of migrants.
Speaking to WWN, Karakatschanow said he plans to divide his country's border region with Turkey into five zones and have armed troops patrol each one. He said he expects the maximum manpower at the border to be around 1,800 troops, backed up by video surveillance and even drones.
"We will send armed forces to each of these zones, who will be tasked with guarding the appropriate border region," Karakatschanow said. "Highly specialized combat troops will also be part of the forces."
The defense minister justified the move by saying that he had identified how much more efficient the military was at guarding a border region than the police force.
Karakatschanow also said the move was necessary following the European Union's failure to stem the flow migrants crossing the Mediterranean into Italy. "We cannot afford to continue having illegal migrants coming to Europe in droves," he said. "We should deploy NATO and EU troops in places like Italy and Greece, while defending the external borders of the EU, with armed force if necessary."
The Bulgarian lawmaker also said he believed the majority of people crossing the Mediterranean from Libya into Europe were economic migrants coming for personal gain, rather than to escape persecution. "They don't fear for their lives, they only want to live in a rich western country," he said.
Located along the Balkan route, Bulgaria saw hundreds of thousands of migrants pass through into western Europe during the height of the migrant crisis. Since then, Bulgaria's border with Turkey has been sealed with barbed-wire fencing, reducing though not quite fully stopping new migrant arrivals crossing into Europe.
The move to Europe will be made even more difficult for refugees, as Greece announced that it would be deploying an additional 2,000 troops to the border as well. Greek lawmakers stated that efforts to strengthen the border were already taking place and various sources confirmed that barbed wire fences are being erected along the Greek-Turkish border as well.
The recent moves by European countries comes after Erdogan announced to suspend the agreement with the European Union and that this could lead to a massive flow of refugees to Europe again.
Human rights groups warn that as Europe is more and more sealing the borders, more people could try and attempt the most dangerous sea routes to the continent, but those, especially in combination with the nearing winter, could lead to high numbers of casualties.
_____
The Balkan route and most land routes into Europe will become een more difficult to take, so the fear of human rights organizations is that people will either head to the more dangerous sea routes, or that they will seek refugees in neighboring countries, were conditions are considered far less favorable.
---
Iblib Deal Reached in Sochi
September 2018
Turkey could deploy more troops to Iblib under new Russian agreement
SOCHI | Russia --
Russia and Turkey have agreed to create a demilitarised buffer zone in Syria's Idlib province to separate government forces from rebel fighters based there. Russian President Vladimir Putin said it would be 10 miles wide and come into force by 15 October. Troops from Russia, an ally of Syria's government, and Turkey, which backs the rebels, will patrol the zone. After Monday's meeting between Mr Putin and Turkish President Recep Tayyip Erdogan in Sochi, Russian Defence Minister Sergei Shoigu said the deal meant there would be "no such operation in the region."
The Russian President said that under the deal all heavy weaponry; including tanks, rocket launch systems and mortar launchers operated by rebel groups would need to be pulled out of the buffer zone by 10 October. "Radically-minded rebels", including members of Hayat Tahrir al-Sham - a jihadist alliance linked to al-Qaeda that was once known as al-Nusra Front - would also have to leave the zone, Mr Putin added. Under the terms, opposition forces will also be required to depart territory currently under their control east of the M-5 highway, which will fall under government control and form the boundary between the Turkish occupation zone and Syrian territory.
The Turkish government will be obligated to ensure that the 10 mile demilitarised zone in the Turkish occupation zone remains peaceful and will be accountable for any violations of the zone. Meanwhile, the Russian government will ensure that no incursions into the Turkish occupation zone take place from Syrian territory. There is speculation that this will require hardened infrastructure being put in place along the proposed border, turning the Turkish occupation zone into a de facto Turkish exclave within Syria, inside which the Turkish military will face the unenviable prospect of disarming and deradicalizing thousands of radicalized militants single-handedly, while also having to provide for three million Syrian civilians.
An analyst at London's RUSI think tank questioned the long term implications of the plan, saying "Where will all the fighters, who have sworn never to surrender, go to next? When they surrendered their bastions in the big Syrian cities, they were all bussed to Idlib. There is a land corridor between Idlib and the Turkish frontier, so will they be allowed to disappear among the throngs of refugees for new battlegrounds, or will the Turkish army fight them to the death? There are thousands of foreign fighters who cannot return home, who have been bloodied on the battlefields of Syria, and who will now have only the Turks to turn their anger and arms against."
Others wonder how the rebels inside the zone will react to the agreement - an agreement which was made about their future but without input from any of their leaders. "It is possible" explained Henry Turnbull, a expert on the Syrian conflict and professor at Oxford University "that the [militants] wont simply withdraw." In addition, while there has been no statement of any kind as of yet from Assad's government; this deal was also made without obvious inclusion of the Syrian government and some wonder how that will be received in Damascus and elsewhere in the country.
The conflict has swung heavily in President Assad's favour. Air strikes by Syria's ally Russia, and support from thousands of fighters backed by Syria's other main ally, Iran, have helped the Syrian military rout rebels elsewhere. On 30 August, Foreign Minister Walid Muallem declared the government's priority was now to "liberate" Idlib. He said it wanted to avoid civilian casualties and regain territory through "reconciliation agreements", but that it was determined to defeat HTS "no matter the sacrifices". Russia also declared that Syria's government had every right to "liquidate the terrorist threat on its territory".
__________________

Russia:
+0.50 Domestic Popularity
+1.00 International Popularity

Turkey:


+1.00 Domestic Popularity




-1.00 Domestic Popularity




+1.00 International Popularity



Syria:


+0.50 Domestic Popularity




-1.50 Domestic Popularity




Some people are concerned that this marks the start of a "Czecholsovakia" model of "negotiation" where Syria will not necessarily have a say in its future
---
Russian Government Imposes Restrictions on Turkish Travellers
October 2018
MOSCOW | Russia --
Following recent claims by the French government, a NATO ally of Turkey, that the Turkish state is facilitating the transit of ISIS fighters to Europe knowingly or unknowingly; the Russian government has declared new restrictions on Turkish travelers to the country: who up until now enjoyed fairly free travel to the country. he Ministry of Internal Affairs has announced through its website and the Russian embassy and consulates in Turkey that an additional 14 day security window will be applied to all visa applications so that those travelling to Russia can be thoroughly vetted, while additional 90 minute security checks will be applied to flights travelling from Turkey to Russia. Documents informing the authorities of where travelers intend to stay will also be required to be filled out, with reports that the police will conduct random checks on addresses that are provided.
Prior to these new security restrictions Turkish travelers heading to Russia, especially to the Far East, on holiday or business enjoyed visa-free travel; along with travelers from China, Japan, India, Iran, Turkey, Morocco, Mexico, and some other countries. The new restrictions have put a stop to many planned holidays and we spoke with Safak Guvenc who was planning a trip to Vladivostok with his family. "We will go elsewhere, simply this is too much of a hassle. We are disappointed and hopefully I can get refunds for our tickets."
A government spokesman said that the precautionary measures will remain in place for a period of three months to ensure that if France's accusations are indeed true, no terrorists are able to slip through the net to access Russia where they may carry out atrocities. It is reported that repeat travelers will face minimal disruption, limiting the impact on businessmen and investors travelling between the countries, however new entrants, particularly solo travelers of both genders will face additional scrutiny. Following a recent statement by the President's office, it is understood that Turkey's protection of what Russia regards as al Qaeda in Idlib and the current allegation of support for ISIS has shaken trust in Turkey as a reliable partner for combating terrorism despite the recently signed Sochi agreement and President Erdogan's visit.
This program's effects have been felt by some, though not all, of Russian tourist destinations due to the fact that Turkish tourists were some of the most common coming into Russia. The Lotte Hotel Vladivostok stated that it has had "about three times" the amount of cancellations as usual. The Russian Far East is a common destination for travelers from Turkey as well as other countries, and while businessmen are not as affected the loss of tourism revenue is expected to be felt especially in that part of the country.
_______________

Russia:


+1.50 Domestic Popularity




-2.00 Domestic Popularity




+0.50 International Popularity




The new security measures are in place, and there will be a minor hit to the economy should they continue past three months.



Turkey:


Various Turkish citizens are upset about the new Russian security procedures and many have canceled there trips rather than go through the extended screening, home checks, and the like.
---
Indonesia to Increase Foreign Aid to Timor Leste
October 2018
DILI | East Timor --
Agricultural in Timor-Leste will see a significant rise in business investment and increased employment under an agreement that will see the sector getting substantial assistance. The agreement was signed today by both the government in Dili and representatives of the Indonesian government.
The ten-year agreement will see Indonesia substantially increase the economic assistance to the region that was annexed by Indonesia in 1976, and was granted its independence less than two decades ago.
The project will focus on providing the Timorese agricultural sector with sufficient amounts of fertilizer, in order to ensure that the crop production can be increased to much higher levels. "There is a significant shortage in fertilizer throughout Timor-Leste, something that Dili and Jakarta will try and overcome in the next ten years," Franky Luhulima, a East Timorese journalist.
Aside from the assistance to the agricultural sector Indonesia will help set up and partially fund a better equipped hospital in Dili. "Through this hospital we hope to further improve the access to sufficient healthcare for the Timorese people," said an Indonesian official.
Analysts have revealed that the plans will cost Jakarta around $100 million a year for the coming decade.
_____
Indonesia:
Domestic popularity: +1.00%
Domestic popularity: -0.50%
International popularity: +2.00%
Funding deducted
Small GDP bonus, but this is overall a means to improve the relations between the two countries.
---
United States announces 'broad agreement' reached between France and Turkey on refugee agreement renegotiation
October 2018
WASHINGTON D.C. | United States --
Following a private meeting with representatives from France and orchestrated by the diplomatic finesse of President Trump the Foreign Minister announced that he was pleased to state that a 'broad agreement' had been reached. This agreement stated Minister Mevlut would 'ensure that the Republic of Turkey would be treated as the valued partner to Europe that it was'. While he was unwilling to give specifics regarding exact renegotiation of the agreement, Cavusoglu stated that he had secured a 'recognition that Turkey could not accept an uncapped amount of asylum seekers' with a proposed limit seen to be fair by all involved.
In addition to this that the issues with EU funding to assist with the basic needs of the refugees from Syria had been resolved fairly amicably with the negotiators seeming to understand that an agreement that did not allow for this funding to be funneled into things other that setting up temporary colleges to speak English ahead of acquiring the food and living supplies needed.
When pressed regarding the recent incident regarding the French Navy breaching maritime law and allowing the deaths of several Turkish citizens, Minister Cavusoglu merely stated that the mistake had been acknowledged by the French and that he had been informed that the 'mistake would never be made again and those responsible for such a breach will be punished'. While the Foreign Minister was quick to state that these discussions with France did not constitute acceptance by the European Union he did note that it had been heavily implied that the agreement 'as it stood' was one which the European Union seemed likely to accept moving forward.
_____
Turkey:
Domestic popularity: +1.00%
France:
Domestic popularity: +1.00%
United States:
International popularity: +1.00%
In general there is optimism about the agreement, however as the European Union will have to agree to things, the results are still very minimal, but on both sides there is a lot of positivity concerning the outcome. It will however be very dependent on the final confirmation by the EU. The mediation by the US government is something that has been reflected upon positively as well.
---
German Chancellor steps in once again to offer the UK (and the financial markets) an olive branch.
October 2018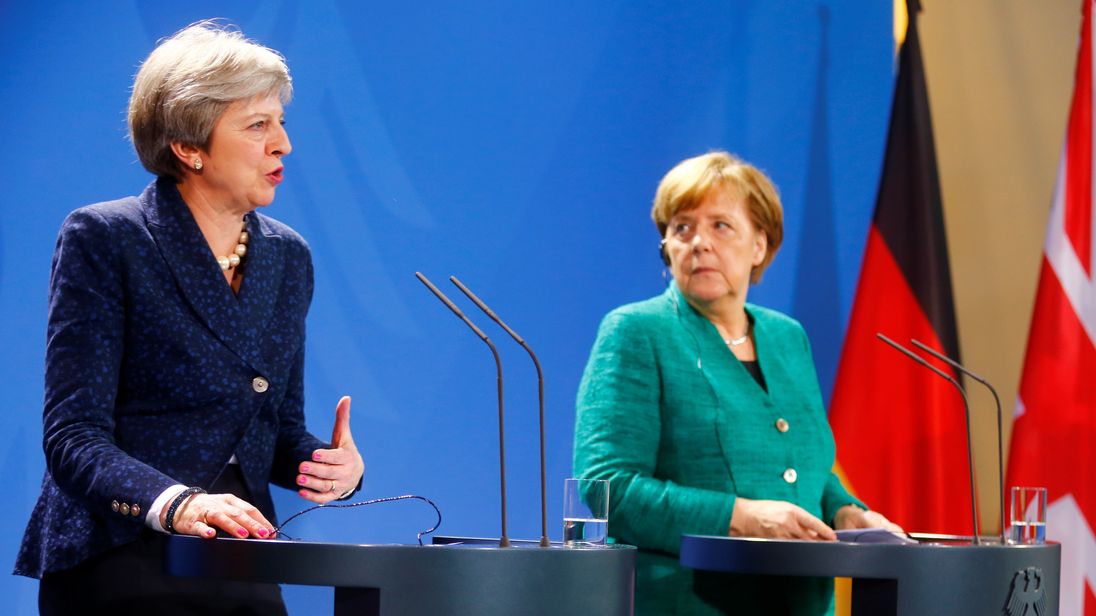 BERLIN | Germany --
With talks in Brussels at an impasse with just months to go before a deal needs to be agreed, the German chancellor made a rare intervention at a conference in Frankfurt.
She told major players in the world of German finance on Tuesday: "We don't want the discussions to break down. We will use all our force and creativity to make sure a deal happens. We don't want these negotiations to collapse. But we also can't fully rule that out because we still have no result. The inability of the British to come to an agreement is putting their economy under pressure and is leading both political camps to take a more entrenched position where compromise seems ever more unlikely. The sinking pound is just symptom of a far more dangerous predicament, that the UK may lead its economy into stagnation or recession through impasse.
That is why Germany will take the corner of the UK and argue for a prolongation of the negotiations for another six months, as we are convinced that the Prime Minister is doing her up most to find a solution which is agreeable to the British parliament. It is perhaps an unpopular position in some corners of Europe that are hoping to punish the UK, but they will be our partners no matter what transpires in the coming months "
The EU says it needs a deal to be struck on the withdrawal agreement covering citizens' rights, the £39bn divorce bill and the Irish border, along with the political declaration on the future deal, by November at the latest.
The German chancellor has generally played a backseat role in the talks, preferring to intervene only at crunch points at EU summits.
EU leaders are due to meet in Brussels in October, but an emergency summit is being pencilled in for 13 November in case the negotiations require an extra few weeks for agreement to be made.
The leaders will gather at a summit in the near future where the EU27 are planning a "carrot and stick" approach to Brexit, offering Theresa May warm words on the Chequers proposals to take to the Conservative conference alongside a sharp warning that they need a plan for Northern Ireland within weeks.
The twin statements from the EU leaders would seek to give the British prime minister some evidence of progress in negotiations on the future trade deal as she seeks to fight off the threat of rebelling MPs.
However, under the plans being discussed among the 27, a shot would be fired across May's bows on the issue of a backstop for Northern Ireland, an issue on which officials and diplomats are becoming increasingly frustrated.
_____
Germany:
Domestic popularity: +1.00%
Domestic popularity: -0.50%
International popularity: +0.50%
Overall the reaction is positive, although some have asked whether this should have not happened earlier. As the UK is been absent IG for a while the mods will RP the UK on this topic in the meantime. Please use the EU thread already created for the dialogue between the EU and the UK, and we will keep in mind that the UK has been absent since round start. I will most likely open up the UK after the upcoming activity check, if the current players does not become active in the coming days.
---
OCSE Report and Media Visits Demonstrate Compliance with Minsk II in Donbas
November 2018
KIEV | Ukraine --
After heated exchanges at the United Nations between Russian, Polish and Ukrainian diplomats, the Organisation for Security and Co-operation in Europe (OSCE) Special Monitoring Mission to Ukraine has announced that in the three weeks since the commencement of a Russian-led initiative in the Donbas region there have been no violations of the ceasefire that is currently holding along the Line of Control. It also reports that after visits and overflights of the region, the separatists in the Donbas have fully withdrawn all heavy artillery in accordance with the Minsk II process.
Ahead of the publication of the OSCE report, the Russian government was able to secure unlimited access to the Donbas region for representatives from 15 international media agencies, which WWN was fortunate to be included among. Our correspondent crossed the border into Donbas escorted by the Russian military amidst concern that while separatist artillery has been verifiably withdrawn, Ukrainian guns and rockets remain pointed into the area.
Our correspondent met with OSCE officials who were able to show photographs taken from the air and space several weeks apart. These showed locations where artillery had previously been deployed that are now vacant, while at storage sites and marshalling yards far to the rear, artillery vehicles are gathered in the mud. Although few separatists were willing to speak with us, those who did some of their relief at the lull in fighting which had enabled them to visit their families for the first prolonged period in years.
We were also taken to the Line of Contact to see the frontline across which Ukrainian and separatist forces face of in an uneasy standoff. Here the OSCE informed us that no exchange of fire had taken place in almost three weeks, a sign that was leading to cautious optimism for the civilians in and around the area. Or guide however stuck a less optimistic note, saying that the commitment to the ceasefire had been made on the proviso that diplomatic progress would see peacekeepers deployed before the end of the year, and with current impasse, it now looked unlikely to hold beyond December.
The publication of the OSCE report and the accounts of journalists who visited the area draw contrasting responses however. There were strong allegations of a Russian ploy, that the situation was being orchestrated by Moscow and that OSCE was complicit in the lie. However many online have pointed to the absence of reports of ceasefire violations and the publication of imagery to show that perhaps this is a watershed moment. And while Russia has brought a ceasefire and sought a diplomatic solution as previously requested by both the Ukrainians and the Poles, it has been pointed out that both those parties now object, and Ukraine is ramping up military spending as a time when a peaceful resolution is being presented to it.
Sources close to the OSCE have however confirmed that the organization is still working on a report that Russian troops might have replaced Ukrainian separatist at the frontline of the conflict zone. "Multiple reports of such an undertaking surfaced, and we will look further into these allegations, however we do not want to comment on this issue at the moment," said one member of the OSCE mission.
One of the most verbal sources supporting the claim that Russian regular soldiers have replaced Ukrainian separatists has been investigative site Bellingcat. Information posted on the website of the group of investigators already shows images of separatist fighters and known Russian military officials. The likeness between these pictures is reason enough for the OSCE to further look into this claim, as several high ranked Russian military officials are identified on the site, indicating that Moscow indeed is providing substantial assistance to the separatists.
_____
I Expect a response from Ukraine to this, as well as various other (Western) countries involved
---